POWER & AIRFLOW
Major aspect of Electrophorus Thermo-Lamps is the airflow circulation that mostly happens forcibly by two fans. There is a big heatsink fan that cools down the heatsink and a smaller fan that supplies air to the combustion chamber.
Heatsink fan, works passively, whereas burner fan is regulated by the user for achieving optimum operation or for assisting the firing up and shutting down phase.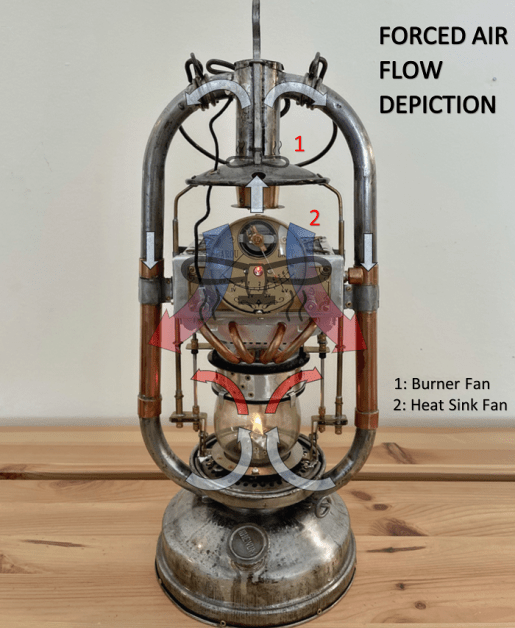 Burner Fan Airflow Chart
In Electrophorus lamps, the power and quality of the flame is regulated by:
– Moving the wick up/down by turning the wick controller
– Adjusting the air to the burner by turning the airflow regulator
Hence for achieving optimum lamp performance during normal operation and within limits of 2 1/2 – MAX watts generator's output, the chart below stands true.

It must be noted, that some judgement and experience of the particular electrophorus model is required, since every after adjustment of airflow feeding the flame or the wick controller by altering flame's size, the flame tends to drift slowly away from the newly forced state to a new equilibrium, either by becoming longer (the flame) or lesser over the next minutes .
An increase of airflow, cools down the burner, so less evaporation of fuel happens and flame's length gets shorter over time (assuming wick position is fixed)
An decrease of airflow, warms up over time the burner, so more fuel evaporation happens and flame's length gets longer over time. (it can start sooting after a while or even enter unsafe region)
An increase of flame (by turning wick controller while keeping airflow constant) warms up over time the burner, so more fuel evaporation happens and flame's length gets longer over time. (it can start sooting after a while or even enter unsafe region)
A decrease of flame, cools down the burner, so less evaporation of fuel happens and flame's length gets shorter over time
 – Due to the dynamic nature of Thermo-lamps, those should operate under supervision ALWAYS  –
OPERATION OF ELECTROPHORUS
Power & Airflow Control