"The Looks"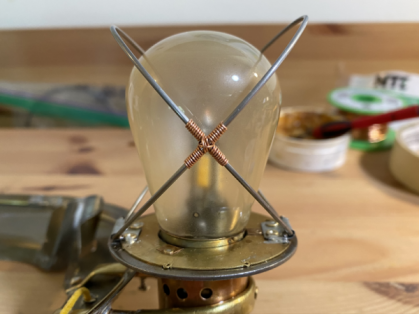 When I put together the first concept drawing of Electrophorus, it became evident that this kind of Lamp cannot having lighting sources other from the flame placed in the center of it, since it is occupied with the generator module.
Light sources in a thermo Lamp (bulbs or lamp modules) could only be positioned in the circumference, top, or even bottom of it.
For the Electrophorus thermo lamp design, top and bottom was out of question so the circumference remained as the only option.
The way the bulb(s) are arranged, and the shape of the *Lamp Holder is subjected to artistic creativity and indented end positioning of that Electrophorus model. Interesting Electrophorus lamps could be created with just one lamp module, assuming they would be placed in corners or with its backs against the walls. Possibilities are endless here.
I played it safe with my three prototype models, having the lamp holders (the hats) possessing 2 lamps (modules) each, 180 degrees spaced apart on "hats'" circumference and tilted 45 degrees from the front vertical Electrophorus axis, thus providing light in a 360 degrees fashion and without messing the view of the Gauge.
Furthermore E002 & E003 (steampunk style) hats differ distinctly from E001 one, that has a more conventional look.
Besides, lamp holders geometries and number of lamp modules, lamp holders can provide a different lighting effect, depending the lighting technology used. In the prototypes, I went for all out efficiency, employing 2700K warm white LEDs, mount on copper tube heatpipes, that always run cold at their above maximum lumens per watt potential. Its amazing how a little flame can give 500 lumens+ lighting in those lamps.
But this has not to be always so. Interesting lamps could be made (but less efficient) by using bulbs of rigid very warm white **(2200K) LED filaments, and if efficiency is of no concern at all and a totally awesome effect is sought after, flexible very warm white LEDs lamps could be used for mood setting and ambient light.