"The Elusive Flame"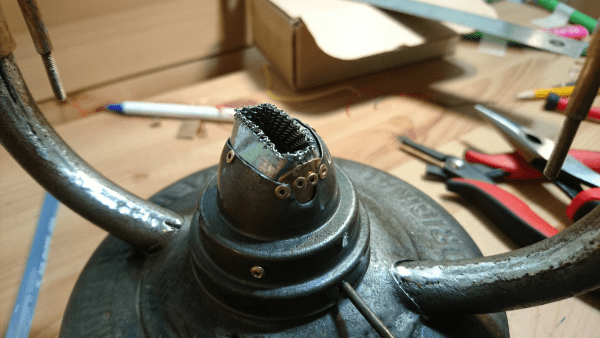 There is not a single most important technical component in Electrophorus Thermo lamp than the burner.
The quality and behavior of a  burner, in terms of efficiency (fuel to watt hours output) power generation (watts out), odor output and flame characteristics  define each Electrophorus thermo Lamp.
It took me time to fully understand, design and assemble the correct for the purpose burners, and there is more room for perfection.
The qualities one burner should possess are:
Easy firing up and shutting down with as low odor as possible
Highly efficient wick kerosene burners have the nasty habit of being a pain to get up to speed, releasing lots of fuel vapors . This is due to relative high burner mass resulting in thermal inertia. Same thing is true during cool down.
Enhanced air fuel mixing
Before i went  into modifying the original lantern burners, i tried to used them as is or with minimal tinkering.
With the use of the regulated burner fan to compensate for the minimal chimney effect, it is achieved the familiar steady bright kerosene flame, and much more brighter i would add, that glare eyes during watching, but the heat output is low and the odor at higher power is intense.
Then i went for the "blue flame".
I managed to create mostly unstable burners, that while hot and up to speed were burning with a blue flame, much like a kerosene stove putting out lots of heat. While i was happy with power output, the effect of a blue flame is not appealing, not mention the nasty smelly start up process.
After that point the rule of 20% bright flame is applied to all my higher power burners. That means the fuel vapors are mixed with air in such proportion that flame luminous output is 20% but not less.
Burn clean, efficient , odorless in various flame levels.
Every burner made made so far,  has to meet the above criteria. It has to burn odorless in closed rooms (even though this is NOT advised) for a prolong time. This is done easier for a higher power flame (e.g at 5 watts) but when the flame is diminished (e.g 2 watts) this is trickier to achieve so.
Every burner is unique.
While i strive for homogeneity, small geometrical differences and builts produce burners with slightly different end results. Every burner has to meet the above criteria, but no burner is exactly the same with another.